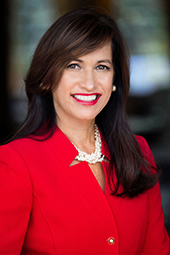 Dream Foundation announced the appointment of Kathleen Patrick as Senior Director of Development.
Ms. Patrick will serve as a member of the leadership team and an active participant in making strategic decisions for Dream Foundation. In partnership with Chief Executive Officer Kisa Heyer, she will be responsible for all fundraising and development activities supporting the annual operating budget and special projects. Additionally, Ms. Patrick will design and implement a comprehensive plan for developing key external alliances by cultivating individual and philanthropic support.
"We are eager to welcome Kathleen to the Dream Foundation family," says Dream Foundation's Chief Executive Officer Kisa Heyer. "Her experience in major gifting and philanthropic programming is ideal, but her background as an RN and compassionate caregiver was what really set her apart. She has an understanding about our Dreamers' experience and can speak eloquently about our mission. I look forward to what we will accomplish together in the coming years."
Ms. Patrick most recently served as the director of major gifts at University of Southern California Verdugo Hills Hospital where she implemented and managed their philanthropic efforts. Previously, Ms. Patrick was director of major gifts for Marymount University in Rancho Palos Verdes and prior to that, spent eight years with the Providence Saint Joseph Medical Center in Burbank. As one of the chief fundraisers Ms. Patrick helped to launch the Roy and Patricia Disney Cancer Center, the first comprehensive cancer center in the San Fernando Valley and worked for the Canadian Consulate of Los Angeles.
She holds a Bachelor of Arts in International Relations from the University of Southern California and earned her RN at Pasadena City College.
She currently sits on the board of University of Southern California's Trojan League of Los Angeles and has been a goodwill ambassador to Japan and Germany.
"I am truly honored to have accepted this important position as Senior Director of Development with Dream Foundation and am looking forward as we endeavor to raise significant funds with our leadership team, board of directors, volunteers, and staff," says Ms. Patrick. "The impact that this work will have on the lives of our Dreamers and their families will be felt for years to come and significantly inspire Dream Foundation and its affiliates to offer compassion and kindness to the world around them."