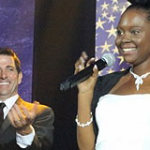 Through our Dream Granting Program, we endeavor to make dreams come true for terminally ill adults. In fulfilling the last dreams of our dream recipients and their families, we strive to improve the quality of their lives in ways that medicine alone cannot. Through this non-traditional, palliative form of healthcare, Dream Foundation provides those at the end of life's journey with a sense of resolution, completion and peace. In 2014, we served our milestone 20,000th dream.
Dream Guidelines
Dream Foundation grants requests to adults age 18 and over whose life expectancy, confirmed by their physicians, is one year or less. Applicants must be able to affirm that their resources are limited to the point that they cannot manifest a request for themselves. To request a dream, potential recipients may download and print an application or contact Dream Foundation to have an application mailed to them.
Please note that we CANNOT grant the following types of dreams:
Requests for adults with chronic illnesses
Requests from individuals living outside the United States.
Cash
Surprise Dreams
Reimbursements for completed dreams
Legal assistance
Automobiles, Lifts, Repairs and RV rentals
Hunting
Property and home improvements
Funeral arrangements or posthumous requests
Travel outside the United States
Medical treatment/supplies/equipment
Cruises
To Request a Dream
General Dream Applications
You can download and print the application, or fill it out online.
Hospice Dream Application
If you are a hospice worker filling out an application for a patient. Please use this form.