11th Annual Flower Empower Luncheon
When:
May 12, 2022 @ 11:00 am – 2:00 pm
2022-05-12T11:00:00-07:00
2022-05-12T14:00:00-07:00
Where:
Santa Barbara Historical Museum

Please join as we gather once more to support this program that delivers hope and compassion—in the form of beautiful bouquets—to those in need.
Our luncheon will be served in the shade of the Santa Barbara Historical Museum courtyard. It will feature our annual awards, a silent and live auction offering extraordinary experiences and must-have items, plus an opportunity drawing, bouquet making and delicious cuisine!

For more information please contact flowerempower@dreamfoundation.org or call (805) 539-2215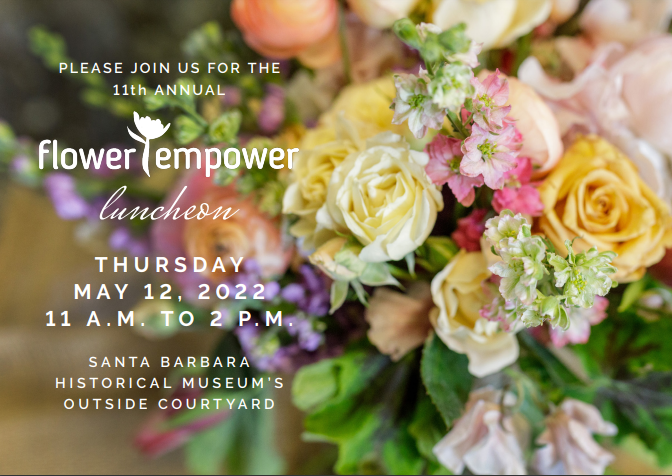 ---
EMCEE
Alan Rose
AUCTIONEER
Andrew Firestone
Honorees
2021 VOLUNTEERS OF THE YEAR
Jill Rode
Barbara Schoch
2021 GROWER OF THE YEAR
Hilltop Flowers Inc.
2021 YOUTH VOLUNTEER OF THE YEAR
National Charity League Class of 2023
2021 PROGRAM SPONSORS
Alice Tweed Tuohy Foundation
Colleen Barnett-Taylor and Michael Taylor
Kate and Arthur Coppola
Robin and Roger Himovitz
Elizabeth and Kenny Slaught
IN MEMORIAM
Tara Haaland-Ford
---
11th Annual Flower Empower Luncheon Sponsors
Southwest Airlines
MAGNOLIA
Elizabeth & Kenny Slaught
PEONY
Kate & Arthur Coppola
Robin & Roger Himovitz
Wells Hughes, Arlington Financial Advisors
Shelley & Paul Schulte, Rudi Schulte Family Foundation
ROSE
Elizabeth & Andrew Butcher
Casa Dorinda
Roberta & Stan Fishman
Montecito Bank & Trust
ORCHID
Colleen Barnett-Taylor & Michael Taylor
Betty Dominguez
Michelle & Luke Ebbin
Jenny Hoffman
Amie Parrish
Elizabeth Patterson
Claude Raffin
Justine Roddick & Tina Schlieske
Melinda Rogers
Crosby Slaught
WELL WITH RYNELL
DAISY
Christina Rottman Designs
Laura Collins
Renee & Stella Crawford
Jennifer Gillon Duffy, Rimon Law
Corinna Gordon
Hospice of Santa Barbara
Hutchinson & Bloodgood LLP
Kimi J. Matar
EVENT UNDERWRITERS
Jen & Skip Abed
Colleen Barnett-Taylor & Michael Taylor
Debra Borden
Pieter Crawford-Van Meeuwen
Christine & Robert Emmons
Marisa & Brett Grimes
---
In-Kind Event Sponsors
Bella Vista Designs, Inc.
Blue Star Parking
Bright Event Rentals
Music by Bonnie
Paradise Retreats
Riviera Towel Company
Kiel Rucker of Head & Heart Photography
Santa Barbara Historical Museum
Seasons Catering
Program Supporters
Thanks to our wonderful growers and suppliers, who support Flower Empower throughout the year
Chocolats du CaliBressan
Florabundance
Hilltop Flowers Inc.
Robin & Roger Himovitz
Maximum Nursery
Myriad Flowers
Trader Joe's
Westerlay Orchids
Westland Floral
Florists
Boho Chic Dreams Florals
Debbie Does Flowers
ella & louie flowers
Emma Rose
Foriver Floral
MJ Florals
Truman Davies
Twisted Twig Fine Florals
Wild West Florals
IN-KIND LIVE AUCTION SPONSORS
Alaska Airlines
Ballard Inn
Bell's Restaurant
Blue Ribbon Restaurants
Four Seasons Maui Resort at Wailea
Greenwich Hotel
Katherine Hedrick
Indochine
J. Wilkes
Janine Cifelli Representation
Miller Family Wines
Mario Muredda
Lindsay Ornstein
Rockefeller Center
Sensorio
Peter Siegel
Stables Inn
IN-KIND SILENT AUCTION SPONSORS
Acupuncture Integration
Aligned Pilates
Alma Luna
Apropos Catering
Bikini Factory
Bliss Beach
Botanik
Brophy Bros.
Calikiki Soul Coaching
Carpinteria Wine Company
Chapala & Parker
Clare V
Coast 2 Coast Collections
Janey Cohen
Cos Bar
Colette Cosentino
Paul Crawford DDS
Deckers Brands
Diani Boutique
Dylan Star
El Capitan Canyon
Evolutions Medical & Day Spa
Float Spa
Folded Hills
Folio Press & Paperie
Forage Florals
Fresco
Kevin Gleason
gorjana
Natalie Goss
Marisa Grimes
House of Profound LLC
Nathan Irwin
Michelle Isom
J. Wilkes
Jenni Kayne
La Paloma Café
Lone Tree
Maison K
Mariposa Wellness
Misa Art
Aidan Mullen
Our Place
Paradise Retreats
Sandi Prather
Riviera Towel Company
Rori's Artisinal Creamery
Rosewood Miramar Beach
Santa Barbara Film Festival
Santa Barbara Gift Baskets
Santa Barbara Home Improvement Center
Santa Barbara Sailing Center
Santa Barbara Symphony
Santa Barbara Together
Santa Barbara Winery
Shopkeepers
The Efficiency Project SB
The Nugget
Tiny Village Picnic Company
Viva Oliva
Waxing Poetic
WELL WITH RYNELL
Wendy Foster
Westerlay Orchids
Wine Grotto
---
Event Committee
Jen Abed
Rebecca Borgioli
Rynell Casey
Renee Crawford
Shannon Di Padova
Jodi Fishman-Osti
Erin Griffin
Lynette Hall
Robin Himovitz
Margaret Lloyd
Amie Parrish
Melinda Rogers
Alan Rose
Crosby Slaught