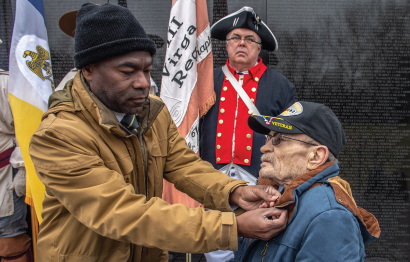 Vietnam War U.S. Army Veteran and Purple Heart recipient David Allen Chapman II visited the Vietnam War Memorial in Washington, D.C., a Dream come true!
David's service was commemorated at intimate pinning ceremonies at the Vietnam Memorial Wall and The Three Soldiers statute, the highlight of his momentous trip. Prince Taylor, Acting Director, Veterans Affairs Center for Development and Civic Engagement presented David with the Vietnam Veteran Lapel Pin to recognize, thank and honor David who served during the Vietnam War. Sons of the American Revolution color guard also attended the ceremony in period uniforms.
"I have a lot of appreciation and respect for my country," wrote David in his application letter to the Foundation. "I want to visit the war memorials in Washington, D.C., to honor the people I served with and anyone who has served or is currently serving for their sacrifice for this country."
David began his service with the U.S. Army in July of 1969 when he was just 19 years old. As an infantry soldier, David was deployed to Korea and Vietnam. David was medically discharged in December of 1975 as a Purple Heart recipient. David continues to serve his veteran community, marching to raise funds for homeless veterans and food rooms.
Shortly before the Dream, David was visited by Phillip Pitts, a North Florida-South Georgia Veterans Health System specialist and executive assistant and the Combat Veterans Motorcycle Association's Georgia's 25-5 chapter. Chapter commander, Artie "Chief" Pearson arrived with members Michael "Magic Mike" Myers, Joie "Pale Face" Myers and Dewayne "Hammer" Igou and presented David with everything provided for his trip, along with a Director's Coin, a Challenge Coin and a Dreams for Veterans pin.