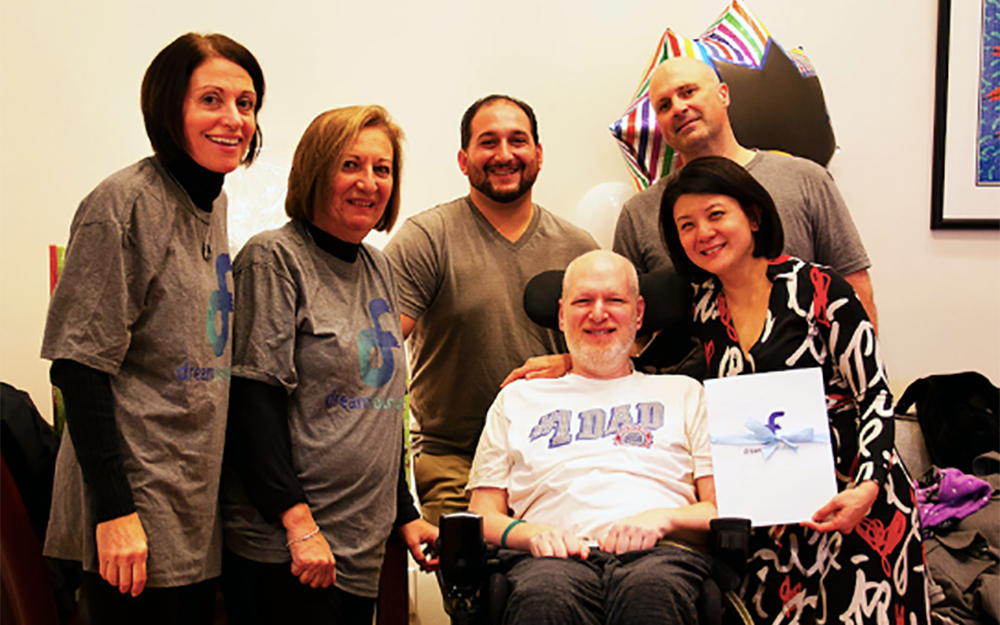 The Eisai Dream Host team visit Dream recipient Sanford and his wife, Dorothy.
Eisai Inc., a U.S. pharmaceutical subsidiary of Tokyo-based Eisai Co., Ltd, has supported Dream Foundation's Dreams for Veterans program since 2018, increasing their support in 2019.
Teresa Cronin, Senior Director of Corporate Advocacy at Eisai Inc., explains, "I first heard of Dream Foundation through a work colleague who was very impressed by the mission of the foundation since it closely aligned with how Eisai lives our human health care mission."
Officially launched in 2015, Dream Foundation's Dreams for Veterans program honors our veterans' service by fulfilling their final Dreams. Dreams often reconnect veterans with aspects of their military service with visits to special monuments and pinning ceremonies, bringing them, their families and their caregivers inspiration, comfort and closure at the end of life.
In addition to helping Dream Foundation fulfill more Dreams for veterans, the partnership also provides opportunities for U.S.-based Eisai Inc. employees to be directly involved in making Dreams come true. Cronin says, "During a national sales meeting we had, our employees participated in an activity that created over 200 beach bag kits for upcoming Dream recipients. Along with beach essentials, employees attached a hand-written note filled with warm wishes for the recipients' upcoming trip."
Eisai employees also volunteer as Dream Hosts, visiting Dream recipients nationwide to deliver everything that Dream Foundation provides to help their particular Dream come true and special gifts from the Dream Hosts. As Cronin says, "Eisai is very proud to be a partner because it gives our employees an opportunity to volunteer and help deliver the Dreams and respectfully be part of a very important moment in these peoples' lives."
One such visit was to a recipient named Sanford, who dreamed of taking his children, Harry Potter Fans, to see the "Harry Potter" Broadway show, and have lunch with them. A team from Eisai went on the Dream delivery to visit Sanford and his wife, Dorothy. Afterward, one of the Eisai Dream Hosts, Susan, wrote to us to say, "Our team was taken back by the opportunity to meet Dorothy and Sanford on Friday to deliver gifts along with the Dream of going to a Broadway show next week. I think I speak for all of us by saying that "we have been changed for life by Dorothy's strength and love for Sanford during this very difficult time in their lives."