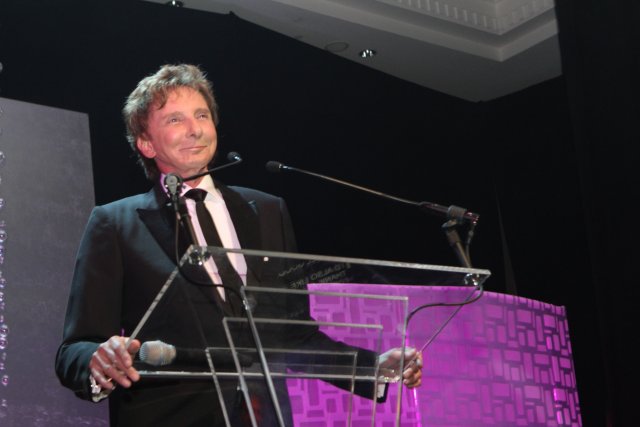 12th Annual Gala Update
This year, we were thrilled to honor the legendary Barry Manilow with the 2013 Humanitarian Award, and Andy Puzder & CKE Restaurant Holdings, Inc. with the Outstanding Corporate Partner Award. The audience was treated to incredible performances by Olivia Newton-John, Richie Sambora, Glee's Darren Criss, Sean Jones, Teal Wicks (star of "Wicked" on Broadway), and of course Barry Manilow. Live auctioneers were the incomparable Jane Lynch (2nd year in a row) and Andrew Firestone. Presenters included Nigel Lythgoe (our 2012 Humanitarian Award Recipient) and Dream Ambassador Priscilla Presley. All talent fees—as well as the production services of Greg and Laura Pasetta—were donated 100 percent.
The after party was held at Miro Restaurant, and sponsored by Bentley Westlake, with spirits by Beau Joie Champagne and Yacht Club Vodka, and DJ Chris Cox.
Major sponsors for the night included: American Airlines; Bacara Resort & Spa; Carl's Jr.; Gentiva Hospice Foundation; David & Suzanne Johnson; Arlene Montesano; O'Gara Coach Westlake; Lady Ridley-Tree; Herb & Bui Simon; Michael & Colleen Taylor; and Walter Claudio Salon Spa. Special thank you to all our Live Auction donors, including Jose Eber; Eleven Experience; World Odyssey Limited; Bacara Resort & Spa; Westerly Wines; Montage Laguna Beach; Ranch at Live Oak /The Ranch 4.0; Steven E. Shulem, Strictly Vacations and Crystal Cruises; The Glazer Family, Manchester United; Richie Sambora; and Herb & Bui Simon.