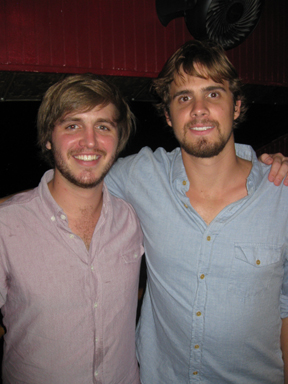 Mighty Tuks Dream Fundraiser a Great Success!
Friday night at Sign of the Whale in Washington D.C. was great for the Mighty Tuks and Dream Foundation. More than 50 people came out to celebrate, see the adventurers off, and raise money for a worthy cause. Many in attendance were Jarryd and Simon's former classmates from nearby George Washington University; others were colleagues and friends. All shared a passion for philanthropy, and were eager to learn more about the race and the exploits to come.
Jarryd, the ringleader, learned of the Rickshaw Run while in England, then roped Simon and another friend from Norway in to the idea. As excited as all three are for the adventure, they're taking the fundraising aspect very seriously: only required to raise about $2,000, they've aimed for more than seven times that – hoping to fulfill one dream each day of the race.
Jarryd and Simon took me aside at length to talk about the dreams they had already fulfilled, like helping a veteran come to D.C. to see the Air and Space Museum… and providing a lung cancer patient the opportunity to fly cross-country for a family reunion. When describing being able to make a few individuals so happy, their eyes positively lit up.
In short, to call the Mighty Tuks' coming escapade a race is to miss the point: arrive, survive and enjoy it to the finish line. The guys plan to fly more or less by the seats of their pants – which, given the amazing array of things that could happen in the desert of India, might well be the only planning possible…
The journey that lies before Jarryd, Simon and Kristian is, itself, a dream opportunity. But in their quest for adventure, never do these young men lose sight of those whose dreams they're racing to help fulfill.
Follow their adventure on Facebook!
— Story and Photos by Dream Foundation supporters and friends, Michael Henry & Joy Lin
Make a donation to Dream Foundation in the name of the Mighty Tuks here!
To inquire about fun sponsorship opportunities on their trip, Contact Erinn!