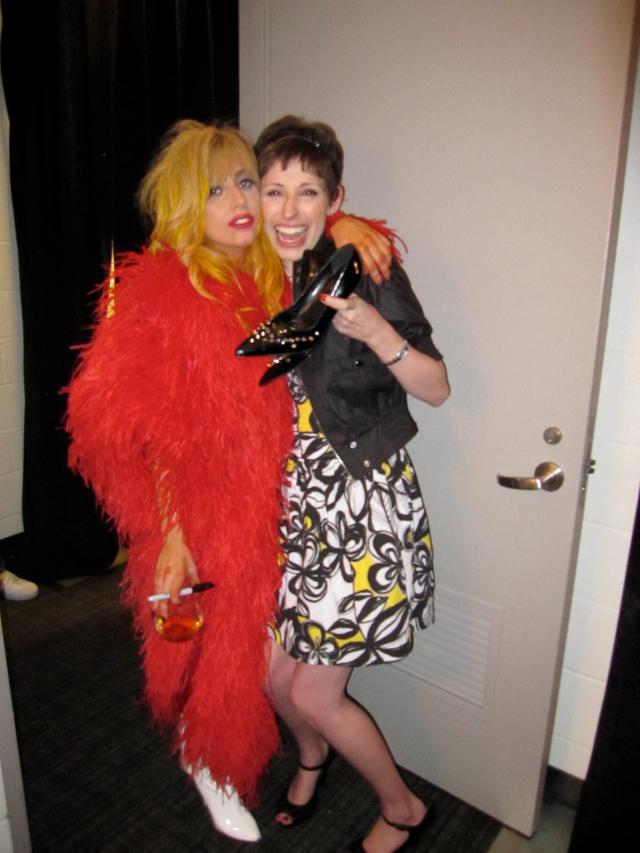 Noelle's Meeting With Lady Gaga
Noelle was discovering her life dreams with a great job in San Francisco when her headaches began. It was only a matter of weeks she'd learn she had Leukemia. Two bone marrows later that did not take, her doctor told her she might die. Noelle heard about Dream Foundation through Kim Kardashian on E! and wrote to us about how much she loved Lady Gaga's music.
Noelle's dream: to see Lady Gaga perform live.
Although I felt ancient amongst the spry and youthful Gaga fans (affectionately known as her "little monsters") I was excited to watch Noelle get to escape her brutal reality and hear the same music that provided an escape during her countless hospital and chemo treatments.
It was not until the end of the concert that I navigated Noelle towards backstage with the ruse of making a quick stop to visit someone.
Noelle's eyes widened with excitement as Lady Gaga herself entered private waiting room to visit her. She had just danced and sang her booty off for two hours and now she was giving her time to Noelle.
And time she gave. Having witnessed many meet and greets, I was thrilled that Lady Gaga shared with me the sense that there was no greater place to be  than with Noelle in that moment.
Noelle eagerly shared her love of Lady Gaga's music; her appreciation for the escape it provided during painful times in her illness; and her sheer gratitude for Lady Gaga's profound, heartfelt, and honest compassion, love and inspiration.
It was breathtaking.
I can only attempt to paraphrase the wonderful conversation that transpired – yet I'm lost for words to describe the unusual feeling Lady Gaga gave of being completely present in the moment. And connected.
"They may say you are sick, but all I feel is how alive your spirit is," Lady Gaga told Noelle. "Listen to yourself and believe in your will. I want you leaving here loving yourself more than you love me. You are so beautiful."
These were just some of the messages she shared, others she confessed she has not shared with anyone, and thereby I won't either. That night I witnessed a generous giving of her heart, to the heart of another.
Noelle's baby sister watched through joyful tears – and I couldn't help but well up too. I saw the same in Lady Gaga. It was a moment I think all we all took a mental snapshot of the moment to store in the corners of our hearts. Then, as if she got an epiphany, Lady Gaga asked, "What shoe size are you?" to Noelle who responded with a "7 1/2!"
Lady Gaga ran off to her dressing room and returned with a studded pair of black heels.
"These are your Chemo shoes!" exclaimed Lady Gaga. Next time you have to go to Chemo, walk in there wearing these and remember your are a superstar. No illness can take your inner-beauty or your spirit of life away. You are beautiful!
Lady Gaga signed the bottom of the shoes and gave Noelle a long deep embrace.
I saw a different girl leave that concert. A girl with renewed confidence, hope and strength…with a set of new shoes to walk fiercely down the treacherous road ahead and with a smile that was as wide as the earth.
From the heart,
Thomas W. Rollerson
SPECIAL THANKS to 19 Entertainment – Stirling McIlwaine & Lindsay McCall and Staci Yamano at Atom Factory, it would not have happened without them.