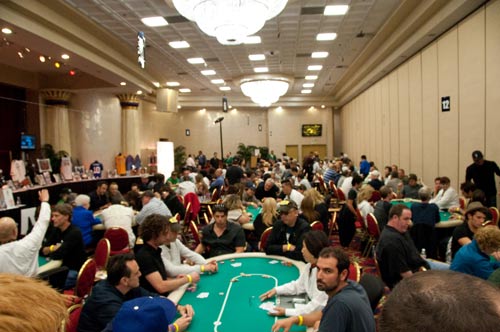 All in for All Good 2009
On Saturday, May 30, the stars aligned in Commerce, CA for Dream Foundation and Maximum Hope Foundation's "ALL in for ALL Good" celebrity poker tournament. Brad Garrett, long-time Dream Foundation supporter and founder of Maximum Hope, gathered his friends in the ballroom of the Commerce Casino for an afternoon of card playing.

Brad's friends, including Ray Romano, Hank Azaria, Jason Alexander, Cheryl Hines, Teri Hatcher, Kevin Nealon, Jolie Fisher and Michael Chiklis, all showed up to support both foundations and take their chance at a friendly game of Texas Hold 'Em.




"I can't tell how you excited I am about today," Brad told ArtistDirect.com.
"It's an amazing turnout. I started working with Dream Foundation ten years ago and [Dream Foundation Founder/President] Tom Rollerson is amazing. Tom knew I wanted to start my own foundation. We're kicking off our charity, Maximum Hope, so we piggybacked [with Dream Foundation]. Everything we make today is going half towards Dream and half towards us. We want to just have a lot of fun and raise some money for these two great causes."
In addition to the celeb studded room, there were some unique auction items for sale, including hotel rooms at the Wynn in Las Vegas (including a private lesson with famed poker player Annie Duke) and a visit to Brad Garrett's monthly poker game at his private home. Brad managed to up the ante of the prize value, by including Kevin Nealon, Ray Romano and Cheryl Hines to the game if he reached a higher bid … he was successful.
Tom Rollerson of the Dream Foundation had the perfect words to sum up the night:
"I'm not a poker player; I'm a dream maker. I had no idea what to expect in this room. The turnout was just amazing—completely star-studded. The event is a lot of good-hearted people coming together for good causes. It doesn't getter better than that. As far as I'm concerned we're all winners. Brad Garrett goes above and beyond with whatever he does, so his level of commitment in making this happen is incredible. We're very grateful, and we can make a difference."
Photos by Handeland Tesoro Photography